I'm not losing it, I know it's Thursday but as tomorrow is Good Friday, I will be spending the day is quiet reflection with my family on God's goodness and in His ultimate sacrifice for all of us in his son so that we could have freedom. So I'm posting one day early
Remember those rad blister's I was sporting last week? Welp..they broke. Ouchie. Now I know I have arrived ha ha! I tried showing my hubby how tough I was but I think he was just grossed out. What can you do? I guess bandaids will be in order for Saturday. I also tried to do a pull-up on the branch of a tree in my back yard. It was pretty pitiful but my kids thought I was a superhero. Because apparently hanging from a tree branch, unable to pull yourself up more than half an inch is superhero status in this house. I'll take it! My neighbours on the other hand, think I'm insane. I'm not expecting any invites to swim in their pool this summer.
This week was actually a bit of a tough one. I've been having some not-so-great stomach issues for a few weeks now which has kind of sapped my energy and this week was about the worst it's been. Tuesday was t-o-u-g-h. Really had to dig deep to get through it. BUT, I was still able to make improvements when compared to week one of this phase. I was finally able to get the strength sandbag over my head without dropping it behind me…or on me. I was also able to complete 5 sets of 15 burpees without feeling like I was going to blow my biscuits completely wasted by the end. In other words, I was able to drive myself home without still trying to quell the burning of my lungs. 4 weeks ago, I could barely do 11 per round and seriously wanted to die. Ah burpees….and I know…they don't like me either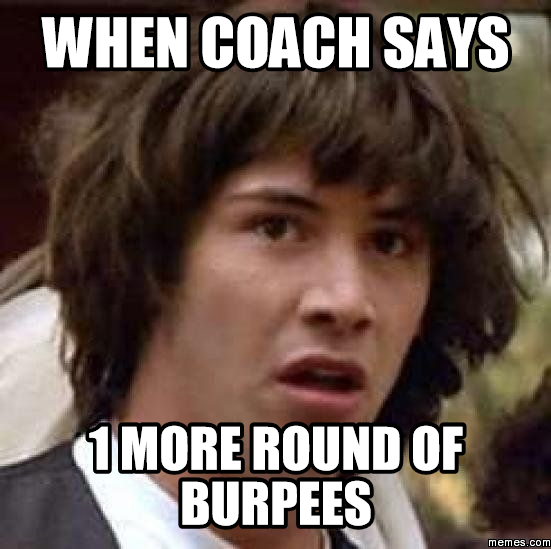 Saturday is my last workout for the phase. I have a goal of getting through all rounds of pushups unassisted. I'm *this* close. I can get to the last round (7 rounds of 5) and my arms completely fail me. It feels good to work hard! Then bring on recovery week! I actually love recovery week and not because it means an easier week of workouts, but more because we get a day to learn/work on form. I'm such a visual learner that I find these sessions to be very beneficial for me. I can't just hear the words or read it on paper, I need a visual. Before You Tube, I would have been completely hopeless.
I hope you all enjoy the long weekend. For those who pause to remember Christ's sacrifice, may the day be full of quiet reflection in preparation for Sunday's celebration.
Follow my weekly updates:

Week 1                                 Week 5                         Week 9               Week 13                Week 17
Week 2                                 Week 6 (no update)     Week 10             Week 14                 Week 18

Week 3                                 Week 7                         Week 11             Week 15                 Week 19